Translation of data fields on generic driver's license of the Netherlands
This translation is provided as complementary annex to a generic Netherlands issue drivers licence. To be used with the Philippines department of transportation. LTO form no. 21 of the land transportation office in case the applicant does not dispose of an international drivers licence.
No rights can be derived from this document.
Front of driver's licence
Category/number
1. Name
2. First name
3. Date and place of birth
4a. Date of issue
4b. Enddate of validity
4c. Issuing authority
5. Document number
7. Signature of holder
8. City of residence
9. Categories [see backside]
10. Since (licence obtained)
11. Valid until
12. Restrictions (validity date)
13. Document number / BSN (civil registration number)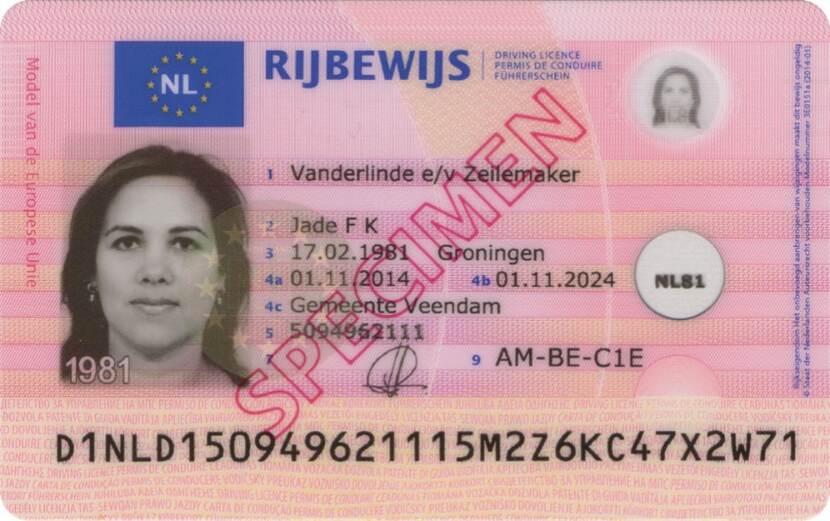 Back of driver's licence
Category 9 detailed
AM: Light Motorized Cycle
A1: Motorcycle less than 11 kW
A2: Motorcycle less than 35 kW
A: Motorcycle unrestricted
B: Motorcar less than 3.500 kg
C1: Motorvehicle more than 3.500 kg restricted to max. 7.500 kg
C: Motorvehicle more than 3.500 kg
D: Motorcar more than 8 passengers
D1: Motorcar more than 8 passengers restricted to max. 16 pax
+E: +trailer for cat. B-C-D
T: Tractor
RDW: State service for road transportation